Context
The context in which a poem was written can sometimes tell you more about its themes, message and meaning.
Some questions you might ask include:
are aspects of the poet's life reflected in the poem?

is the time or place in which it was written reflected in the poem?
You will need to research the poet's background to discover answers to these questions. But if you do write about a poem and its context, be careful to include only details that reveal something about the poem.
Context of 'What Were They Like?'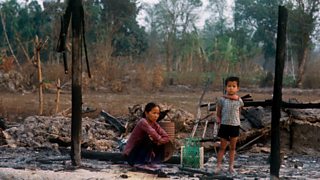 The Vietnam War took place at a time of great social change in the western world. The developing social and cultural freedoms of the 1960s resulted in an increased questioning of accepted authority. A whole new counterculture sprang up which valued political, racial and sexual equality. Famous figures of the 1960s such as Martin Luther King and John Lennon could often be heard speaking out against injustice.
A main focus of the counterculture movement was protesting against American involvement in the affairs of Vietnam and other countries in south-east Asia. A key tool used to do this was the protest song. Artists such as Bob Dylan, Joan Baez and Pete Seeger produced simple but heartfelt pieces of music criticising the Vietnam War and what they saw as the western world meddling where they had no right.
It is in this context that Denise Levertov writes her poem What Were They Like? Although not as openly critical as many of the protest songs, Levertov uses the power of the question and response format to expose the wrong doing and the crimes against humanity which so appalled her.