Overview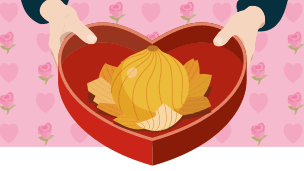 Valentine is from a collection of poems entitled Mean Time (1993), and expresses love and affection in the form of a conceit whereby the symbol of love being offered by the speaker is an unconventional onion.
The poem challenges the stereotypical view of a Valentine's gift when the speaker presents their lover with the metaphorical onion as a moon wrapped in brown paper.
This is reminiscent of metaphysical poets such as John Donne, who approached ordinary objects in original and surprising ways. The multi-layered complexity of the onion represents a real relationship and is used as an extended metaphor throughout.
The strangeness of this unusual gift, which can make a lover cry, highlights the negative as well as the positive effects of a deep and loving relationship.
The forceful presentation of this gift, and the final word choice, also suggests this is a relationship which is cruel, domineering and menacing.