Id-ul-Fitr is the most important festival in the Islamic calendar and was started by the Prophet Muhammad himself. It is also known as 'The Feast of Breaking the Fast' and is celebrated by Muslims worldwide to mark the end of Ramadan. Id-ul-Fitr takes place on the first day of the tenth month of the Islamic lunar calendar, and Muslims are not permitted to fast on that day. Muslims fast for one month during the month of Ramadan.
Muslims are not only celebrating the end of fasting, but also thanking Allah for the Qur'an, which was first revealed towards the end of Ramadan, and for the strength Allah has given them to exercise self-control throughout the previous month of fasting. If necessary, they will ask Allah for forgiveness if they failed to keep the fast at any point.
In Muslim countries, Id-ul-Fitr is a national holiday. In the UK, Muslims may take the day off work or school to join in the celebrations. The festival is marked in the following ways:
The festival day begins with the first sighting of the

new moon

at the beginning of the tenth month of the Islamic calendar.

Muslims wear their best clothes, decorate their homes and spend time celebrating with their friends and family.

Some Muslims may give money to the poor so that they can also enjoy the day.

Communal celebration services are held both outdoors and in

mosques

, there are processions through the streets and a special celebratory meal is eaten - the first daytime meal Muslims will have had in a month.
Id-ul-Fitr is a time for families, friends and neighbours to spend time together and share food.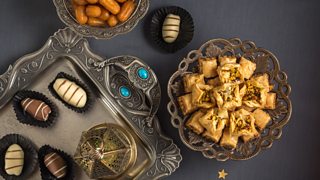 Celebration in Wales
Id-ul-Fitr is celebrated in Muslim communities throughout Wales with communal celebrations held in local mosques. Many families unable to visit a mosque will gather at home to enjoy a family meal. Muslim pupils may take the day off school to celebrate this festival, and adults may take a day off work.
Many mosques will arrange a meal within the local community for non-Muslims to take part in the celebration. In Cardiff, a meal is provided for the local community and everyone is welcome to share in the breaking of the Ramadan fast. This welcome is particularly extended to refugees settling in Cardiff, and the homeless.