Art is not a mirror with which to reflect reality but a hammer with which to shape it.

Bertolt Brecht
The playwright Bertolt Brecht was born in 1898 in the German town of Augsburg. After serving as a medical orderly in the First World War and appalled by the effects of the war, he went first to Munich and then to Berlin in pursuit of a career in the theatre. That period of his life came to an end in 1933 when the Nazis came to power in Germany. Brecht fled and during this period the Nazis formally removed his citizenship, so he was a stateless citizen.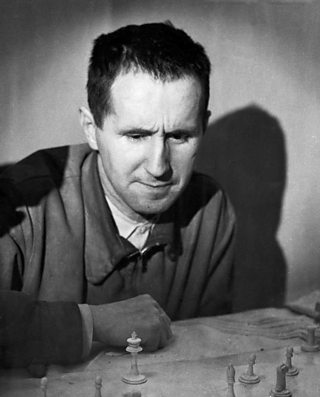 In 1941 Brecht became resident in the USA but returned to Europe in 1947 after appearing before the House Un-American Activities Committee. Ostensibly against communism, this committee also targeted intellectuals. By the time of his death in 1956, Brecht had established the Berliner Ensemble and was regarded as one of the greatest theatrical practitioners.
As an artist, Brecht was influenced by a diverse range of writers and practitioners including Chinese theatre and Karl Marx. The turmoil of the times through which Brecht lived gave him a strong political voice. The opposition he faced is testament to the fact that he had the courage to express his personal voice in the world of the theatre. He also had an original and inspired talent to bring out a dynamic theatrical style to express his views.
His most acclaimed work is Mother Courage and Her Children. Although it's set in the 1600s, the play is relevant to contemporary society and is often regarded as one of the finest anti-war plays. Fear and Misery of the Third Reich is Brecht's most overtly anti-fascist play. This work analyses the insidious way the Nazis came to power.