Physical landscapes in the UK - glaciers, rivers and relief
The UK has a varied landscape as the relief of the land changes in different parts of the country.
Relief
Relief refers to the way the landscape changes in height. Upland areas are high above sea level. They are often (but not always) mountainous. Lowland areas are not very high above sea level. They are often flat. The shape of the landscape is largely determined by: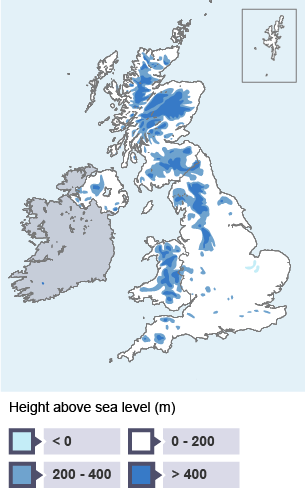 Upland areas are mainly found in:
Scotland

- The Northwest Highlands, the Cairngorm Mountains, the Grampian Mountains and the Southern Uplands. Ben Nevis is the UK's highest peak and is found in the Grampian Mountains.

England

- The Pennines, Lake District, Dartmoor and Exmoor. Scafell Pike is the highest mountain in England and is found in the Lake District.

Wales

- Snowdonia and the Brecon Beacons. Snowdon is the highest mountain in Wales and is found in Snowdonia.
Lowland areas can be found in the following places:
around The Wash (East Anglia and Lincolnshire)

Lincolnshire

the Fens in East Anglia - the lowest place in the UK

the Midlands

the London Basin

the Vale of York
The role of glaciers in shaping the land
During the last ice age, ice covered a large part of the UK. This ice eroded the land producing some of the mountainous landscapes which exist today.