Of Mice and Men is centred around two itinerant workers, George and Lennie, in California in the 1930s as they start work on a ranch in a place called Soledad (a Spanish word meaning 'solitude'). The whole story takes place over a period of four days, starting on Thursday evening and ending on Sunday. While at the ranch, George and Lennie meet other characters, who emphasise the loneliness and difficulty of life for the people living and working in these places.
George is a small, intelligent man who looks after his friend Lennie, a large, strong man who has a learning disability. Lennie's strength becomes increasingly problematic throughout the story as it becomes clear that he does not understand how much damage he can cause.
At several points during the novel, the two men discuss their dream of owning their own ranch and working for themselves, but this is shown to be impossible as by the end of the book Lennie has accidentally killed a woman and George's only option is to shoot him before he is caught.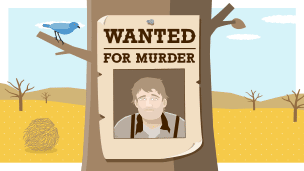 Reflecting a period of economic devastation in the United States, Of Mice and Men demonstrates the damaging effects of the Great Depression upon ordinary working men.