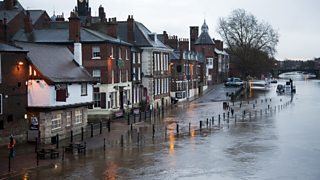 Hurricanes and other storms are likely to become stronger and more frequent as global warming takes effect.
Precipitation (rain and snowfall) has increased across the globe on average and may continue to rise.
Climate change can increase the frequency of heat waves, floods and drought conditions around the world. Europe and the UK would likely experience hotter summers.
On 5 December 2013, England's east coast experienced the worst tidal surge in 60 years. This followed a night of storms in Scotland. The Scottish Environment Protection Agency issued more than a dozen flood warnings.
The Environment Agency confirmed the North Sea tidal surge was the worst since January 1953. This extreme weather could be the result of climate change.
Floods and droughts will become more common. Rainfall in Ethiopia where droughts are already common, could decline by 10 per cent over the next 50 years. This could lead to increased desertification.
The video below describes desertification and climate change.
Britain is largely unaffected by dangerous weather conditions, such as hurricanes or severe droughts.
Some climatologists however, argue that the UK climate is changing as a result of global warming with the possibility of more frequent floods, water shortages and extreme weather conditions.