Only 18% of the UK is 'natural' ecosystems – the rest is semi-natural grasslands such as the South Downs or enclosed farmlands.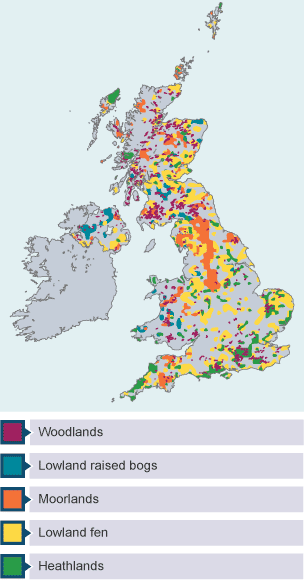 Moorlands are found in upland areas, mainly in Scotland, where they make up 43% of the total land area. The Cairngorms and the Southern Uplands are an example of this kind of area. There are far fewer in England, Wales and Northern Ireland where they account for between 5% and 12% of the land area. Examples in England include the Yorkshire Moors, Exmoor and Dartmoor.
Heathlands have been highly fragmented and only small, isolated areas exist in Breckland, Surrey, Hampshire and Dorset and the Lizard Peninsula in Cornwall.
Only 12% of the land area of the UK is made up of woodland. 80% of these are less than 100 years old and only 5% could be considered 'ancient' woodlands. In England they are mainly made up of broadleaf deciduous trees such as oak and ash, whilst in Wales, Scotland and Northern Ireland the trees are mainly coniferous such as firs and pines. The largest forests are Galloway Forest Park in Scotland, Kielder Forest Park in north-east England and the New Forest in southern England.
There are only 53,000 hectares of lowland raised bogs in the UK and 25,000 hectares of lowland fen. They therefore account for a very small area but have a very high biodiversity and so are very important. Key areas include the Flow Country in Scotland, Wicken Fen in East Anglia and the Inter-drumlin Fens of County Down and Armagh in Northern Ireland.
Value of UK marine ecosystems
The UK has some of the best marine ecosystems in Europe, with a wide diversity of underwater habitats and species. Many of our marine habitats and species are particularly rare and therefore of international importance, for example, the bottlenose dolphin.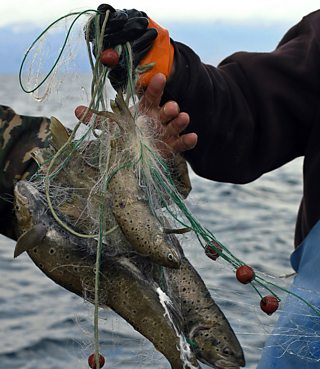 They are also a commercial resource, as fish and crustacea are worth over £700 million a year to the UK economy. Increasingly, there is also wild foraging of halophytic plants such as samphire and kale. These are wild, shoreline plants being used more and more in high-end restaurants.
These marine ecosystems are under threat from:
overfishing

pollution

shipping
Because of these threats, many areas are protected. The main types of marine protected areas are:
European Marine Sites - giving legal protection to species and habitats of European importance

Marine Conservation Zones and Sites of Special Scientific Interest (SSSIs) with marine components - giving protection to species and habitats of national importance