The weathering of rocks by chemicals is called chemical weathering.
Rainwater is naturally slightly acidic because carbon dioxide from the air dissolves in it. Minerals in rocks may react with the rainwater, causing the rock to be weathered.
Some types of rock are easily weathered by chemicals. For example, limestone and chalk are mostly calcium carbonate. When acidic rainwater falls on limestone or chalk, a chemical reaction happens. New, soluble, substances are formed in the reaction. These dissolve in the water, and then are washed away, weathering the rock.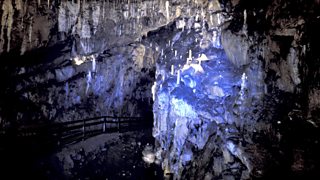 Some types of rock are not easily weathered by chemicals. For example, granite and gabbro are hard rocks that are weathered only slowly. However, some of their minerals do react with the acids in rainwater to form new, weaker substances that crumble and fall away.
Acid rain
Coal, oil and natural gas are fossil fuels. When they are used, carbon dioxide and sulfur dioxide escape into the air. When the sulfur dioxide dissolves in the water in the clouds, it makes acid rain – rainwater that is more acidic than normal.
Acid rain harms fish and trees, but it also makes chemical weathering happen more quickly. Buildings and statues made from rock are damaged as a result. This is worse when the rock is limestone rather than granite.