Weathering is the breaking down or wearing away of rocks where they are. It does not happen because they move or collide with each other.
One type, biological weathering, is caused by animals and plants. For example, rabbits and other burrowing animals can burrow into a crack in a rock, making it bigger and splitting the rock.
You may have seen weeds growing through cracks in the pavement. If you have gone for a walk in the countryside, you may even have seen bushes or trees growing from cracks in rocks or disused buildings. This is because plant roots can grow in cracks. As they grow bigger, the roots push open the cracks and make them wider and deeper. Eventually pieces of rock may fall away.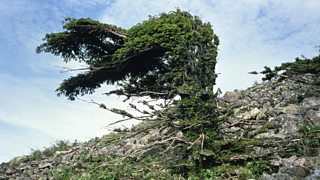 People can even cause biological weathering just by walking. Over time, paths in the countryside become damaged because of all the boots and shoes wearing them away.