Blood vessels
Blood is transported in arteries, veins and capillaries.
Blood is pumped from the heart in the arteries. It is returned to the heart in the veins.
The capillaries connect the two types of blood vessel and molecules are exchanged between the blood and the cells across their walls.

Arteries

Veins

Always carry blood

away

from the heart

Always carry blood

to

the heart

Carry oxygenated blood, except for the pulmonary artery

Always carry deoxygenated blood, except for the pulmonary vein

Carry blood under high pressure

Carry blood under low or negative pressure

Have thick muscular and elastic walls to pump and accommodate blood

Have thin walls - have less muscular tissue than arteries

A type of supporting tissue called connective tissue provides strength

Have less connective tissue than arteries

The channel in the blood vessel that carries blood - the

lumen

- is narrow

Have a wide lumen
Capillaries
Capillaries connect the smallest branches of arteries and veins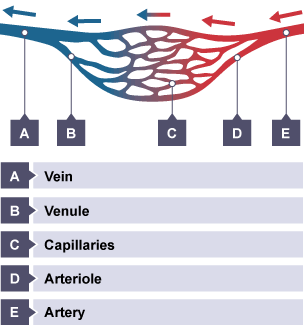 The walls of capillaries are just one cell thick. Capillaries therefore allow the exchange of molecules between the blood and the body's cells - molecules can diffuse across their walls. This exchange of molecules is not possible across the walls of other types of blood vessel.

Exchange of molecules
Into cells
oxygen

diffuses through the capillary wall, into the

tissue fluid

, and the cells

glucose

diffuses from the blood plasma, across the capillary walls to the tissue fluid, and then to the cells
Out of cells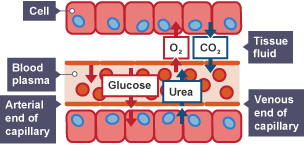 Looking at blood cells
You may be given some prepared slides of blood to examine with the microscope.
Many types of blood cell are 10 μm in diameter or less. You will need high magnification to examine them in detail.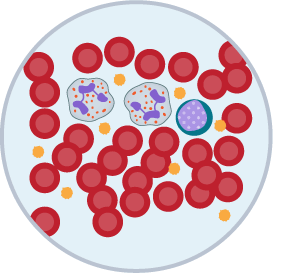 The slides will have been stained to show the cells, and cell features. This picture shows many red blood cells and three white blood cells.