Figure 1 shows a piece of apparatus called a current balance.
Figure 1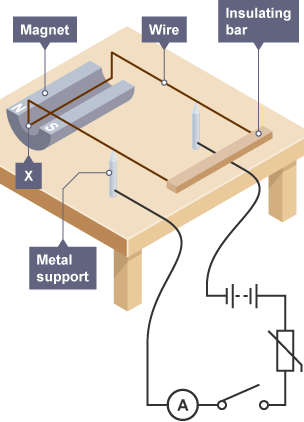 When the switch is closed, the part of the wire labelled X experiences a force and moves downwards.
Figure 2 shows how a small weight placed on the insulating bar makes the wire X go back and balance in its original position.
Figure 2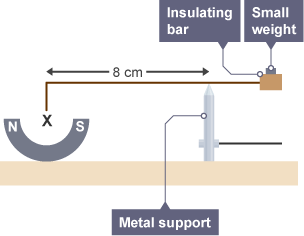 The wire X is 5 cm long and carries a current of 1.5 A.
The small weight causes a clockwise moment of 4.8 × 10-4 Nm.
Calculate the magnetic flux density where the wire X is positioned.
Give the unit. [5 marks]
This question must be answered in two parts. Use the clockwise moment and distance from the pivot to find the force acting on wire X due to the motor effect. Then use F = B x I × L to find the strength of the magnetic field.
clockwise movement = anticlockwise movement
4.8 × 10-4 = F × 8 × 10-2 [1]
F = 6 × 10-3 N [1]
F = B × I × L
6 × 10-3 = B × 1.5 × (5 × 10-2) [1]
B =
[1]
B = 0.08 T [1]