Each of the three metal bars in the figure below is either a bar magnet or a piece of un-magnetised iron.
The forces that act between the bars when different ends are placed close together are shown by the arrows: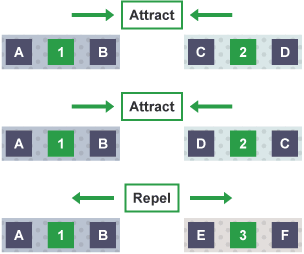 Which one of the metal bars is a piece of un-magnetised iron? [2 marks]
Tick one box. Give the reason for your answer.
[1]
Any one of:
the same end of bar 1 attracts both ends of bar 2

only two magnets can repel so bar 1 and bar 3 must be magnetised
[1]
This two mark question contains a multiple choice part and a written part. It is important to answer the question fully as sometimes marks are only given for the explanation.