The context in which a poem was written can sometimes tell you more about its themes, message and meaning.
Some questions you might ask include:
are aspects of the poet's life reflected in the poem?

is the time or place in which it was written reflected in the poem?
You will need to research the poet's background to discover answers to these questions. But if you do write about a poem and its context, be careful to include only details that reveal something about the poem.
Context of 'Climbing My Grandfather'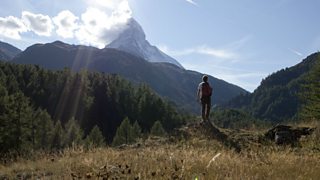 Andrew Waterhouse was a keen environmental campaigner. He worked on a farm as a young man and went on to study environmental science before lecturing on environmental studies at Kirkley Hall College in Northumberland. In 1998, he bought a 10-acre area of land and began planting a wood upon it.
Waterhouse's interest in the natural world is reflected in this poem. He also wrote a series of walking guidebooks. Perhaps this interest, too, helped to inspire the mountaineering theme of Climbing my Grandfather.
Waterhouse wrote verse which explored relationships between parent and child. This poem about a grandfather can be viewed as part of a series on the theme of family.
Andrew Waterhouse committed suicide in 2001, at the age of 42.