An important element of the setting is the Standing Stones which are on the hill above Blawearie. In reality, historians do not know what significance these relics of the Stone Age had.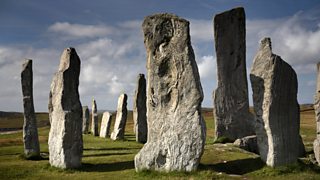 Local legend says they are Druid stones, and that the Druids had been coarse devils of men in the times long syne, they'd climb up there and sing their foul heathen songs around the stones.
John Guthrie dislikes the Stones. He finds Chris reading a book there, and grabs it from her crying Dirt. As he does so, he glances at the Stones and kind of shivered, as though he were feared, him that was feared at nothing dead or alive. He tells Chris that they were coarse, foul things, the folk that raised them were burning in hell.
Symbols of change and continuity
Chris is intrigued by the age of the Stones, and reflects on how people two thousand years ago would have seen them pointed long shadow-shapes in the east each evening just as she was seeing them now.
The Stones remind her of change and mortality, as the people who erected them are long gone. They are monuments to civilisation, having been put there by the earliest settlers of Scotland, thus beginning the process of change.
Sometimes the imagery relates the Stones directly to time passing: as the gnomons of a giant dial the shadows of the Standing Stones crept into the east. By their enduring presence they represent continuity and stability. To Chris, they are a constant in her life, a source of security in a world constantly changing.
When a pregnant Chris has an argument with Ewan which ends in him striking her, she returns to the Stones for comfort: she went and leant her cheek against the meikle one, the monster that stood and seemed to peer over the water... she leant against it, the bruised cheek she leaned and it was strange and comforting.
She realises that it is stranger still that this old stone circle, more and more as the years went on at Kinraddie was the only place where ever she could come and stand back a little from the clamour of the days.
It is both moving and fitting that the names of the Kinraddie war dead are inscribed on one of the Standing Stones, which now stand as Kinraddie's War Memorial, implying that the men's sacrifice will be remembered for as long as the Stones remain.