Villages
Kinraddie
The author imagines the village in minute detail, and a sketch map of the farms is the first thing the reader finds in the book.
Some of the farms in Kinraddie are described as more fertile than others, with those situated higher up being the poorer land. Thus Peesie's Knapp, farmed by Chae Strachan, wasn't bad land …there was the sweat of two thousand years in it, and the meikle park behind the biggings (buildings) was black loam, not the red clay that sub-soiled half Kinraddie.
Cuddiestoun, the Munros' farm, is good enough, the most of it, with the same black streak of loam that went through the Peesie parks, but ill-drained.
Blawearie
John Guthrie, has a much harder time with the coarse, red clay at Blawearie, whose name is an effective amalgam of Blaw suggesting the harsh winds and wearie as the effect on the struggling farmer.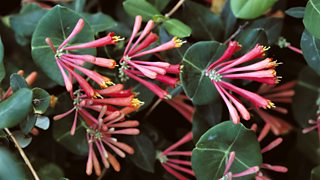 It was coarse land and lonely up there on the brae, fifty-sixty acres of it, forbye the moor…that went on up to a great flat hill-top.
However, Blawearie, has its beauties. Particularly mentioned is the wild honeysuckle which grows there in profusion: the garden hedges grew as bonny with honeysuckle of a summer as ever you saw; and if you could have lived on the smell of honeysuckle you might have farmed the bit place with profit.
The honeysuckle is symbolic of the happier aspects of life, and of the romantic love between Chris and Ewan.
The first time Ewan kisses her, the honeysuckle provides a fragrant backdrop: There was a great power of honeysuckle that year, the smell of it drenched all the close in wet, still weather, it perfumed the night and that kiss, she wouldn't ever forget them both though she lived unkissed again till she died.
The community
Kinraddie is portrayed as a tight-knit community. The villagers are mostly quite inward looking and hostile to outsiders.
As farmers, they are suspicious of the fishing community on the sea coast: everyone knows what they are, the Gourdon fishers, they'd wring silver out of a corpse's wame and call stinking haddocks perfume fishes and sell them at a shilling a pair.
Ewan Tavendale is also seen as somewhat alien as he comes from the Highlands.
The community is Presbyterian, and prejudiced against other religions: next door was an olden tower, built in the time of the Roman Catholics, the coarse creatures. While Ellison is despised for being Irish, particular animosity is directed at the English.
Chris, who is intelligent and well-read, holds the common prejudices, at least as a young girl: everybody knew that the English were awful mean and couldn't speak right and were cowards who captured Wallace and killed him by treachery.