Location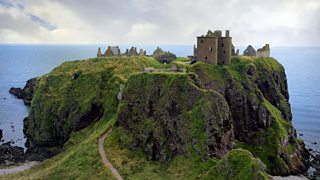 Sunset Song is a topographical novel, meaning it is set in real locations. It is possible to trace the walk Chris and Ewan take to Dunnottar Castle or the route Will takes to visit Mollie Douglas in Drumlithie.
Nearly all of the place names mentioned in the book can be found on a map with the chief exception of the village of Kinraddie, which is fictitious, but closely based on Arbuthnott, a small village in Aberdeenshire where the author, James Leslie Mitchell (Lewis Grassic Gibbon), grew up.
The Kinraddie 'kirk' is Arbuthnott Church which still has stained glass windows depicting Faith, Hope and Charity, just like those which are amusingly described in the Prelude: one of the queans was Faith, and faith she looked a daft-like keek for she was lifting up her hands and her eyes like a heifer choked on a turnip.
This mocking description reveals the lack of respect for organised religion which is typical of the crony narrator's voice in the novel.
Before Kinraddie
The Guthries' story begins north of the Mearns, at the village of Echt, west of Aberdeen, where the author himself was born.
However, the family are evicted because of John Guthrie's pride in refusing to move his cart for an influential lady motorist.
Particularly memorable is the description of the family's removal to Kinraddie via the Slug Road in January when it is smoring with sleet, and their horse-drawn carts get repeatedly stuck in snowdrifts and the children are numb with cold.
The Mearns
The area around Arbuthnott, west of Stonehaven, is good agricultural land, known as the Howe [inland valley] of the Mearns. Fields are known as parks.
Above the village is a loch and what is described in the novel as a circle of stones, although in real life there are just a few individual standing stones in this part of the country.