The circulatory system has three main components:
Blood

Blood vessels

The heart
It has two main functions:
Transportation of substances

Protection against disease
Blood components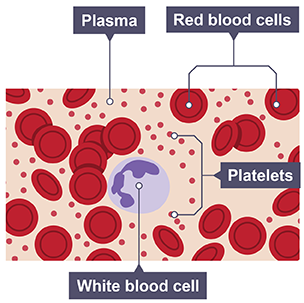 The main blood components are:
| Component | Function | Structure |
| --- | --- | --- |
| Red blood cell | Carry oxygen. | Contain haemoglobin (rich in iron) to carry oxygen. Biconcave shape to provide a large surface area for the diffusion of oxygen. No nucleus to provide more space for haemoglobin. |
| White blood cell | Defend the body against disease. | Large cells that contain a nucleus. There are 2 types: Lymphocytes – make antibodies. Phagocytes – engulf and digest microorganisms. |
| Platelets | Convert fibrinogen to fibrin. Fibrin forms a mesh that traps blood. Important in blood clotting and scab formation. | Cell fragments (very small). |
| Plasma | Transports blood cells, digested food molecules (e.g. glucose), carbon dioxide, urea and hormones. | Straw coloured liquid. |
Cell lysis
If red blood cells are placed in a high concentration of water, osmosis will cause water to move into the cell and, without a cell wall, they will lyse (burst).
Salts and other chemicals are present in the blood plasma to keep its concentration similar to the concentration of the blood cells.