The shepherds and the angels (Luke 2:8-20)
Summary
There were shepherds taking care of their flocks at night. An angel appeared to them and told them not to be afraid as he brought good news, "This very day in David's town your saviour was born – Christ the Lord!" They would find the baby wrapped in cloth, lying in a manger. Suddenly, many angels appeared, singing praises to God "Glory to God in the highest heaven, and peace on earth to those with whom he is pleased!"
The angels left and the shepherds decided to go to Bethlehem. They found Mary and Joseph and saw the baby lying in the manger. The shepherds returned, praising God for all they had heard and seen.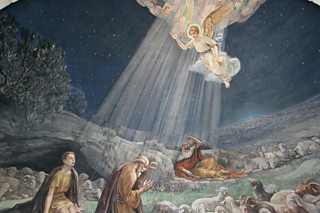 Understanding the text
In Luke's Gospel, shepherds are the first to hear about the birth of Jesus. Being a shepherd in first century Palestine was not considered to be a privileged position in society. The Jewish leaders often criticised shepherds as the nature of their work meant they could not always keep to religious rules (eg strict Sabbath observance.) This shows that the message of Jesus was for all people, even those considered to be insignificant or marginalised.
The angel spoke of a "saviour" and said he was "Christ the Lord". This is an important detail about the identity of Jesus. 'Christ' is a Greek word and is the equivalent of the Hebrew 'Messiah'. Both words mean 'the anointed one'. 'Lord' is a title often used for God in the Old Testament. The baby will be a saviour, but not in a political or military sense – he will save his people from sin and death.
A great company of angels appeared, singing praises to God. This is now known as the Gloria in Excelcis.