China's regional power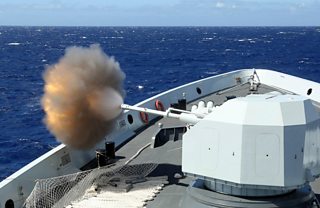 As the largest and most powerful country in East Asia, China has considerable and growing influence. Some commentators argue that one long-term aim of the Chinese government is to have China displace the US as the most influential country in the area.
In recent years, China has adopted a more assertive foreign policy. This has resulted in tensions with many of its neighbours – including renewed territorial disputes with Japan, South Korea and Vietnam in the South China Sea.
South China Sea dispute
As Chinese influence has increased in East Asia relations with the US have become strained. In October 2015, US bombers flew close to a series of artificial islands which are being created by China in disputed areas in the South China Sea. However, US President Obama and Chinese President Xi did meet in Washington where Xi described US-China co-operation as a win-win situation.
Despite strain in their relationships, China, Japan and South Korea have taken part in annual tripartite talks and expanded trade agreements.
In 2014, bilateral relations between China and Vietnam reached an all time low with Vietnam accusing China of violating its international waters as China looks to expand its oil exploration in the energy-rich area.
At a 2014 meeting of the Association of South East Asian Nations (ASEAN), the ten member countries (China is not a member) appeared to back down from challenging China's increasing influence in the area. Some western commentators argue that countries such as Cambodia did not want to jeopardise trade links with China.
North Korea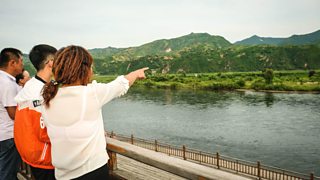 China has an important relationship with North Korea. North Korea is a dictatorship and keen to develop nuclear power but is largely isolated from the rest of the world.
China is regarded as North Korea's closest ally and trading partner. The North Korean economy is almost entirely dependent on trade with China – over 80% of its trade is with China – and the two countries signed a long-standing military treaty (the Sino-North Korean Mutual Aid and Cooperation Friendship Treaty) in 1961.
Chinese diplomatic contacts have helped to influence the North Korean government to adopt a more moderate position over its nuclear program. Over recent years, in an effort to defuse international tension over North Korea's nuclear ambitions, China has imposed economic sanctions on its dependent neighbour in order to apply pressure.
Taiwan
There are ongoing China-US tensions over Taiwan or the Republic of China (ROC) as it is sometimes known. The CPC do not recognise Taiwan as an independent state. Taiwan seceded from China in 1949. China has sought reunification ever since. However, strong US political, economic and military support for the Taiwanese government has prevented reunification. In 2015 the leaders of China and Taiwan met for the first time in 60 years.