All matter consists of atoms.
Atoms contain three types of smaller particles: protons, neutrons and electrons.
Protons are positively charged;

Electrons are negatively charged;

Neutrons have no charge – they are neutral.
Protons and neutrons are found inside the nucleus.
Electrons orbit the nucleus.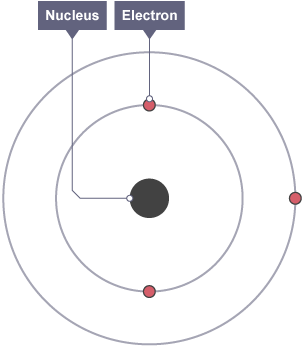 An atom has a neutral charge, because it contains the same number of protons and electrons.
If it loses an electron, it becomes a positively charged ion.
If it gains an electron, it becomes negatively charged ion.
Charged atoms are called ions.
An electric current is a flow of charged particles in one direction.
In solids, an electric current is the flow of free electrons in one direction.