The burial of Jesus (Matthew 27:57-61)
Summary
On the evening of Jesus' death, a rich man from Arimathea arrived. His name was Joseph, and he was a disciple of Jesus. Joseph went to Pilate and asked for the body of Jesus. He took the body, wrapped it in a new linen sheet and placed it in his own tomb, which he had just recently dug out of solid rock. Then he rolled a large stone across the entrance and went away. Mary Magdalene and the other Mary were sitting there, facing the tomb.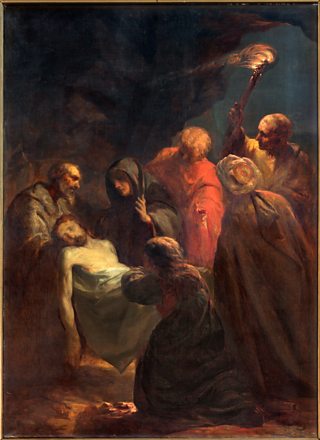 Understanding the text
If no-one claimed the body of a crucifixion victim, it would be thrown in a common burial pit. Matthew describes Joseph as a "rich man" and also a "disciple" of Jesus. Many people believe that he could have been a member of the Sanhedrin and a quiet supporter of Jesus.
The burial custom in Jesus' day was for a body to be anointed with spices and wrapped in a cloth. It would then be placed in a tomb or cave and the entrance would be sealed.