The Industrial Revolution saw a dramatic improvement in transport and communications. However, historians debate just how much of this change really took place during the Industrial Revolution. Many developments in transport had already been made beforehand.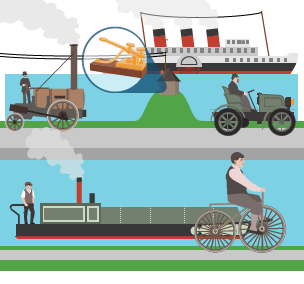 This involved innovation, capital investment and increased extent:
Other developments in transport and communications
Timeline of transport and communication:
1837 - Samuel Morse invented the telegraph.
1837 - Rowland Hill invented the postage stamp.
1839 - Kirkpatrick Macmillan invented the bicycle.
1843 - Isambard Kingdom Brunel built the Great Britain steamship (using screw propellers).
1876 - Alexander Graham Bell patented the telephone.
1885 - Karl Benz invented the motor car.