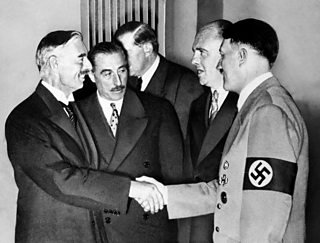 Chamberlain believed that Hitler was making extreme statements only to gain publicity and that he was essentially a reasonable man who would choose negotiation rather than conflict.
Several prominent British politicians were very impressed by Hitler.
During the early 1930s a number of British people expressed their admiration for Hitler's achievements. After the ruinous end of WWI, Hitler appeared to have rebuilt Germany and made it a powerful country again.
The former Prime Minster, David Lloyd George, expressed his support for Hitler's demands and even travelled to meet him in 1936. He described Hitler as a man of supreme quality.
The Labour MP and former party leader George Lansbury, who was a pacifist, wrote in 1937 that Hitler would not go to war unless other people pushed him into it.