A menu is a list of dishes or beverages that are available for customers to purchase.
By law, outlets must display the menu at or near the entrance so potential customers can study it before deciding to eat there.
Many businesses now make the menu available to view online to attract business.
Traditionally menus are divided into 2 types:
Has a fixed number of courses

Has a limited choice within each course

Has a fixed selling price

The food is usually available at a set time as it is easier to do more preparation in advance
A la carte menu
Has a wide choice of dishes for each course

Each dish is priced separately

May have a longer waiting time as dishes are cooked or finished to order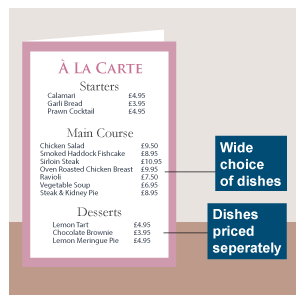 Based on these two formats for menus there are a number of variations.
Set menus will usually have only one choice for each course for a set price. It is an inexpensive way to cater for large numbers as food required can be prepared in advance ready for service.
Early bird menus which may be two or three courses, with a limited choice from the a la carte menu for each course offered before a set time in the early evening at a fixed price.
Children's menus offering two courses with a choice of options that appeal to children for a fixed price that reflects the size of the portion
Takeaway menus are common in fast food outlets or in specialist restaurants that offer a take away service. They are basically a la carte as each dish is priced separately.
Brasserie, coffee shop and popular catering menus can be considered as limited forms of a la carte menus as all dishes are listed and priced individually. This means customers can select a range of dishes to meet their needs at any particular time e.g. a drink and a snack or a main meal with or without either a starter or a dessert.