Overview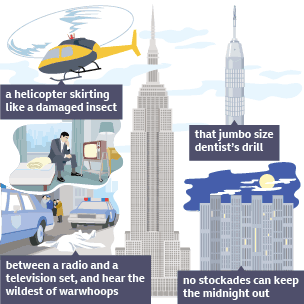 In the mid to late 1960s, MacCaig made several visits to New York. During these trips, he read and discussed his poetry and attended conferences. There was considerable interest in Scottish Literature in America and MacCaig often travelled with other Scottish writers, notably Hugh MacDiarmid.
As well as his professional responsibilities, MacCaig's personal experiences in New York would influence his writing for years to come. Two notable poems that are inspired by his time here are Brooklyn Cop and Hotel Room, 12th Floor.
Hotel Room, 12th Floor ponders the balance between light and dark, good and evil and humanity's role in a developing urban society. It was first published in 1968 in MacCaig's Rings on a Tree collection.
Though the poem begins with light-hearted imagery, with the Empire State Building compared to a jumbo size dentist's drill, the mood gradually becomes more sombre and reflective, with the ominous conclusion that no stockades can keep the midnight out as humans seek shelter from the uncivilised darkness that night brings.
MacCaig makes reference to the technological advances and achievements of modern-day America, such as New York's skyscrapers. However, he also considers the violent past of America, particularly the Wild West, and compares this aggression to the country's present.
By tracing the thread of violence throughout American history to the present, MacCaig suggests that technological progress has not resulted in societal civility. In this sense, this is a bleak poem that predicts that evil will always exist as a part of human life.