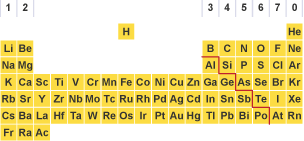 The zig-zag line in this diagram separates the metals, on the left, from the non-metals, on the right. Hydrogen is a non-metal but it is often put in the middle.
Most elements are metals, rather than non-metals.
Each element has its own chemical symbol, made from letters. Only elements are found in the periodic table, never compounds. For example, substances like water and copper sulfate are not in the periodic table because they are compounds.