Casualty Figures
The end of the war was marked by relief, but also great sadness, as few families escaped the loss of a father, son, brother, husband, boyfriend, neighbour or friend. The exact number of Scottish war dead is still a matter for debate and will probably never be known:
The official figure was initially 74,000 but others argue the dead numbered 110,000.

Later, a higher figure of almost 150,000 was calculated by including Scots from around the world 'killed in the service of the crown'.

The problem with this was whether to count a Scot killed while serving in the Australian forces as a Scottish or Australian casualty.

Further difficulties arise when trying to calculate those who died as a result of wounds received in the war, or because of their experiences.

Scotland's casualty rate of 26 per cent of its fighting forces was among the highest.
Remembering the dead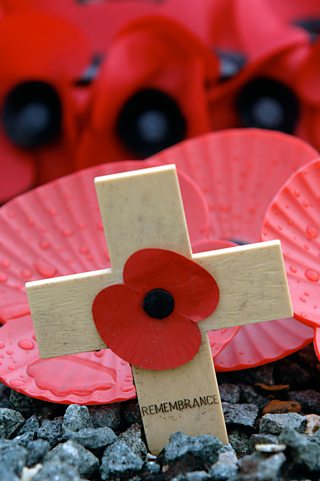 In the years that followed the Great War, towns and villages across Scotland built memorials to remember the loss suffered during the war.
There was great sentiment that Scotland should have its own national tribute to commemorate the war dead. The Duke of Atholl said Scotland should put up a memorial with its own hands, in its own country and with its own money. His plan was for a monument to be built in Edinburgh Castle and on 14 July 1927 Scotland's National War Memorial was opened to the public.
For those whose loved ones were never found, or lie in foreign fields, the Imperial War Graves Commission created and cared for military cemeteries around the world. Over 600 of these cemeteries were placed near the line of the old Western Front in France and Belgium and they became places of pilgrimage for Scottish families after the war.
All of these memorials had a common hope – that the dead had not died in vain and that the Great War really would be the war to end all wars.
The holding of a moment of silence on the day of the armistice, 11th November, started in 1919.
Support for those left behind
In 1921, the British Legion was formed, as well as its Scottish counterpart. The poppy is the symbol of Remembrance and forms part of the logo of the Royal British Legion:
The first President of the charity was Douglas Haig, Commander of the Battle of the Somme.
The Legion provided financial and emotional support for soldiers who had returned but fallen into difficulty and their families.