Historically, fewer African Americans and other minorities have turned out to vote than white people. In recent years, however, the number of African Americans and Hispanics registering and voting has increased.
In 2012, around 64% of white Americans voted and for the first time a greater percentage of African Americans voted (66.2%0. However, only 48% of Hispanics and 47% of Asians voted.
This ethnic minority voter turnout in 2016 showed a similar trend: white voter turnout was 65%, the African American turnout declined to 59%, the Asian turnout was 49%, and the Hispanic turnout was 47%.
Minority representation in the US Cabinet
President Obama's Cabinet was the most diverse administration in US history. Apart from President Obama, there were people from ethnic minority backgrounds in senior positions in the US Cabinet including:
Loretta Lynch (African American) – Attorney General

Ernest Moniz (Hispanic) – Secretary for Energy

Susan Rice (African American) National Security Advisor
Trump's cabinet
In 2018 President Trump's former director of communications for the White House Office of Public Liaison Omarosa Manigault Newman left her post and complained about the lack of dviversity in Trump's cabinet – she had been the only African-American in a senior position at the White House. Overwhelmingly, Trump's senior advisors are white, male and conservative. The Washington Post declared Trump's cabinet as the least diverse in 30 years.
Minorities and the Political Process – the Supreme Court and elsewhere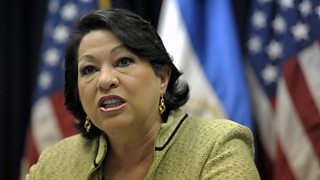 There have only ever been four black state governors including Massachusetts' Deval Patrick. There are two Hispanic governors – Susana Martinez of New Mexico and Brian Sandoval of Nevada, as well as two Indian-Americans, Louisiana Governor 'Bobby' Jindal and Nikki Haley of South Carolina.
There are many people from ethnic minority groups who are city mayors including Michael Hancock of Denver, the city's second black mayor. Overall, minorities remain under-represented in US politics.
The US Supreme Court is comprised of nine justices. In 2016, two were from minority groups – Judge Clarence Thomas and Judge Sonia Sotomayor.