Chromosomes and genes
DNA
The genetic material in the nucleus of a cell is composed of a chemical called DNA. DNA is a polymer, a large and complex molecule. It is made up of two strands forming a twisted ladder structure called a double helix. DNA is contained in structures called chromosomes.
DNA carries the genetic code, which determines all the characteristics of a living organism. Except for identical twins, each person's DNA is unique.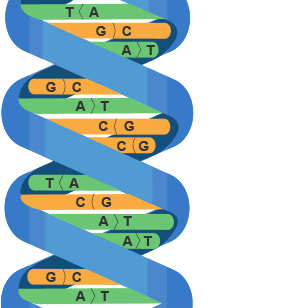 Genes
A gene is a small section of DNA in a chromosome. Each gene carries the code for a particular sequence of amino acids required to assemble a specific protein.
A gene is the unit of heredity, and may be copied and passed on to the next generation.
The diagram shows the relationship between the cell, its nucleus, chromosomes in the nucleus, and genes.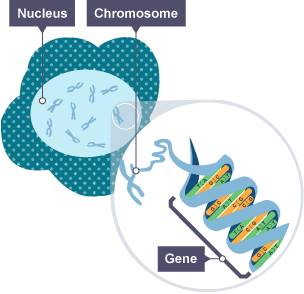 Chromosomes
The cell's nucleus contains chromosomes. These are long threads of DNA, which are made up of many genes. Humans have around 25,000 genes across their 23 pairs of chromosomes.
Genome
The genome of an organism is the entire genetic material of that organism. The sequence of letters in the human genome has been determined, but research is still ongoing. Understanding the human genome has great importance for medicine.