Conduction
Heat is thermal energy. It can be transferred from one place to another by conduction.
Metals are good conductors of heat, but non-metals and gases are usually poor conductors. Poor conductors are called insulators.
Heat energy is conducted from the hot end of an object to the cold end.
Conduction in metals
The electrons in a piece of metal can leave their atoms and move about in the metal as free electrons. The parts of the metal atoms left behind are now positively charged metal ions.
The ions are packed closely together and they vibrate continually. The hotter the metal, the more kinetic energy these vibrations have. This kinetic energy is transferred from hot parts of the metal to cooler parts by the free electrons.
These move through the structure of the metal, colliding with ions as they go.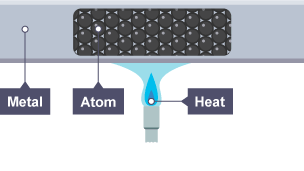 Investigating conductors
An experiment can be used to investigate which metal is the best conductor of heat. It involves some long thin strips of different metals (eg steel, aluminium and copper), wax, drawing pins and a Bunsen burner.
Method:
Fix the drawing pin to the end of the metal strip using drops of wax.

Position the other end of the metal strip into a Bunsen flame.

Record the time taken for the wax to melt and the drawing pin to drop off.
The fastest time shows the best conductor of heat.
Variables that affect the time taken for the drawing pins to fall include the distance they are from the flame and the thickness of the metal.
If you have controlled all of these variables, you should find that copper conducts better than aluminium, while aluminium conducts better than steel.