Form, structure and language
Form and structure
The poem is structured in five, three-line stanzas. Most of the lines have five beats or stresses, though not in a strict metrical pattern, and there is no use of end rhyme. There is enjambment between some lines and between stanzas one and two, and four and five. All of this contributes to the sense of normal speech patterns, which links to the idea that the poem is about two ordinary, separate but connected lives.
Language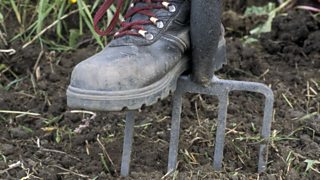 Dooley uses everyday language to convey the sense of ordinary lives, though with some striking figurative language which helps us connect with the emotions in the poem.
Writing a letter is presented

metaphorically

as 'pouring air and light into an envelope', showing the freshness and beauty of the news he sends her.

The

rhetorical question

'Is your life more real because you dig and sow?' is not answered, but the reader may feel that the speaker thinks the man's life is better than her own.

Alliteration

draws attention to the phrase 'my heartful of headlines', which may suggest the sorrow she feels being aware of many news reports.