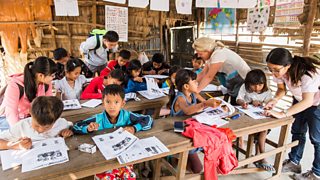 Many LEDCs have experienced very fast growth in recent years.
Birth rates remain very high but there is an ever-increasing number of people living in the economically active group (from 15 to 65 years old).
As a result many LEDCs have moved from Stage 1 in the demographic transition model to Stage 3 very quickly.
The high birth rate in LEDCs results in a high proportion of the population under 15. This youthful population gives a country specific problems.
The problems include:
Young children need health care - for example, immunisations. This is expensive for a country to provide.

Young people need to be educated - providing schools and teachers are expensive. Resources for lessons are difficult to access, and costly to buy.

In the future, more children will reach child bearing age, putting more pressure on the health service.