Population structure of an MEDC and an LEDC
A population pyramid can be drawn up for any area, from a whole continent or country to an individual town, city or village.
The shape of the population pyramid can help us to understand the population structure for a place and help us interpret the birth rate, death rate and life expectancy for a place.
The following graphs show the population pyramids of an MEDC (the UK) and an LEDC (Mozambique), for 2000 and in 2025 using projected figures.
MEDC (aged dependent) population pyramid
UK (2000)
Notice how in the UK 2000 pyramid there is a bulge in the area of the 30-34 and 35-39 age groups, with the numbers thereafter reducing fairly steadily as the ages increase. This matches stage 4 of the demographic transition model.
UK (2025)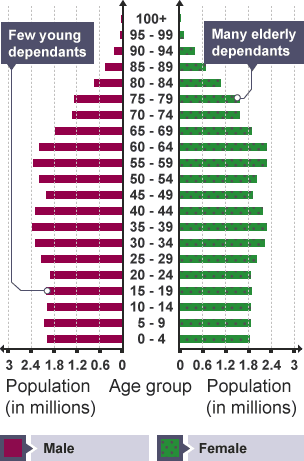 Compare this to the 2025 pyramid, which would be stage 5 in the model. Here the bulge extends much further, covering the age groups 30-64, with the numbers beginning to reduce significantly only after 64.
The population structure for the UK shows an aged dependent population. The sides of the pyramid are steep which indicates that few people die before they reach old age.
The majority of children will be surviving beyond 65 or further. Life expectancies are high because health services are good.
LEDC (Youth dependent) population pyramid
Now compare the UK population pyramids with those for Mozambique:
Mozambique (2000)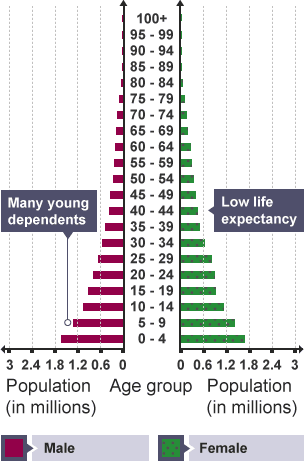 In this graph, notice that in 2000 the 0-4 age group contained the largest number of people, with the numbers thereafter decline steadily as the ages increase. The graph matches stage 1 in the model.
Mozambique (2025)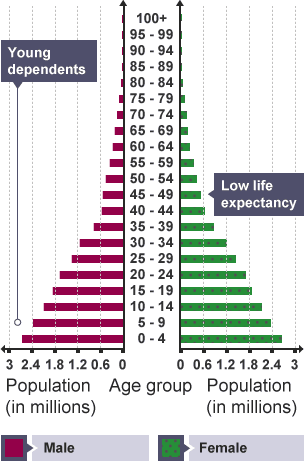 In the second graph, the largest group in Mozambique in 2025 is still the 0-4 age group, but there are nearly as many people in the 5-29 age groups. Now the population pyramid matches stage 2.
Mozambique could be described as having a youth dependent population.
The birth rate is very high (shown by the wide base at the 0 – 4-year-old cohort).
The birth rate remains steady and high but each year a number of people will die so that much fewer people will reach the age of 65.
Although there have been improvements in health care in recent years, there are still large numbers of people who are dying as a result of diseases such as HIV/AIDS, malaria and cholera.
A very large percentage of the population are younger than 15, so the population is said to be youthful.