Measuring the power and strength of an earthquake
The power of an earthquake is measured using a seismometer. A seismometer detects the vibrations caused by an earthquake. It plots these vibrations on a seismograph.
The strength, or magnitude, of an earthquake is measured using the Richter scale. The Richter scale is numbered 0-10 with 10 being the greatest strength or magnitude.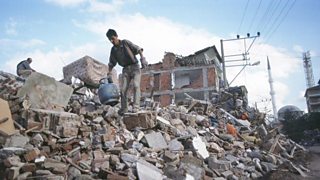 Earthquakes measuring just 1 or 2 on the scale are very common and can happen everyday in places like San Francisco. These earthquakes are so small that people cannot feel them, they can only be picked up by a seismometer.

Earthquakes measuring around 7 or 8 on the Richter scale can be devastating. The earthquake in China's south-western Sichuan province in May 2008 measured 7.8 on the Richter scale.