A species is a group of organisms able to interbreed and produce fertile offspring. Speciation is the formation of two or more species from the original one.
As long as the individuals in a population have the opportunity to interbreed and combine genes, they remain one species. A population of one species can only evolve into more than one species if groups within the population become isolated from each other.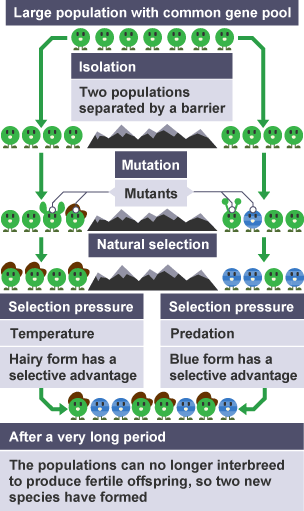 The diagram illustrates what could happen to an animal population that is separated into two isolated groups by a geographical feature. In addition to geographical separation, species can also be isolated by ecological or behavioural barriers.
Different mutations will occur in the isolated groups (because mutations occur at random).
If the environmental conditions differ in the two locations then the individuals in the two isolated groups will experience different selection pressures. Different phenotypes will be selected for in the two groups.
Over many generations the isolated groups will evolve to be different from each other.
Eventually the groups may become so different that if they come together again they are no longer able to interbreed and produce fertile offspring and so are now separate species.
Speciation in honeycreepers
The islands of Hawaii were colonised by a single species of finch-like birds. Eventually populations were isolated from each other on separate islands.
The diagram shows how they evolved into the modern honeycreeper species with beak shapes which adapt them for different feeding methods.