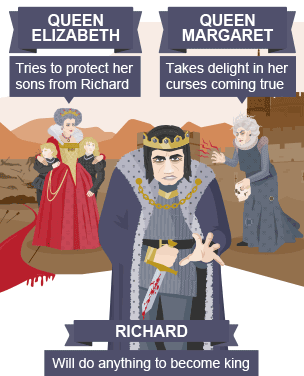 In this play about political intrigue, there are a lot of characters. As long as you know who's done what to whom, you'll be fine. It's a history play, and written only a hundred years later, so Shakespeare had to include a lot of different lords who had a role in the events. The most important characters are those in the royal family.
The characters can be split up into groups to make it easier to remember who is who. They are:
the royal family

Richard's allies

Richmond and his allies

Churchmen

Officers, servants and the people

the ghosts of Richard's victims
The royal family can be split into present royal family, past royal family and future royal family. They are constantly quarrelling and taking sides, no one trusts anyone and most of them end up dying before their time.
Richard's allies are mostly just doing their jobs to survive, although Richard has plenty of villainous connections. Some characters, like Hastings, are sucked in by Richard's charming side and don't realise how dangerous he is, until it's too late.
Richmond's allies are taking a dangerous risk in helping the future Henry VII's side against Richard. The Churchmen are as much involved in political intrigue as the courtiers are. The officers, servants and the people are the innocent bystanders to events. The ghosts of Richard's victims make a brief appearance, but there are lots of them!