Solve the equation
for all values of
between
. Give your answer to the nearest degree.
Using a calculator gives one solution:
(to the nearest degree)
Draw the horizontal line
.
The line
crosses the graph of
four times in the interval
so there are four solutions.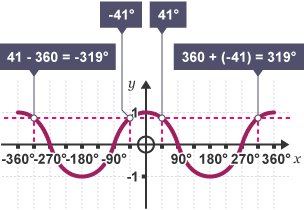 There is a line of symmetry at
, so there is a solution at -41°.
The period is 360° so to find the other solutions add and subtract 360°.
The solutions to the equation
are:
= -319°, -41°, 41° and 319°.