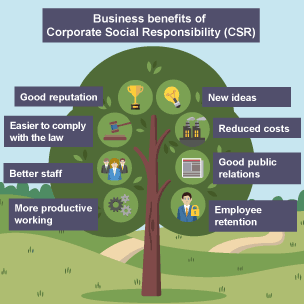 The idea that business should be socially responsible is called corporate social responsibility (CSR). It's the idea that organisations have a responsibility to consider the interests of society.
They must think about the impact of their activities on customers, suppliers, shareholders, communities, and the environment.
CSR is voluntary. It requires a business to go above and beyond what is required by law. It helps to end corrupt, irresponsible or unethical behaviour.
The main reason that companies are becoming more socially responsible is that it benefits their business. Obviously, some business owners and managers will be particularly interested in social projects because of their personal beliefs and connections. But businesses are driven by profit.
They will always want to ensure their actions advance their business objectives.