A student investigated the rate of reaction between calcium carbonate (marble chips) and hydrochloric acid.
The student used the apparatus shown in the image.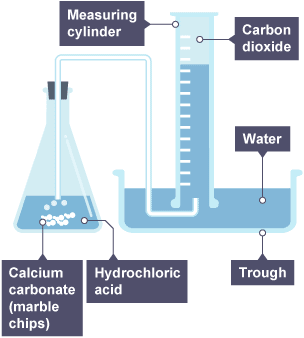 The student investigated how the surface area of marble chips affected the rate of reaction.
Which two variables should the student keep constant? [2 marks]
Tick two boxes.
| | |
| --- | --- |
| Amount of water in the trough | |
| Concentration of acid | |
| Mass of marble chips | |
| Size of marble chips | |
| Volume of measuring cylinder | |