The town of Borth is situated on the west coast of Wales, north of Aberystwyth. The town is popular with tourists and home to over 3,000 permanent residents. Behind the town lies a large nature reserve and wetland area. The town had been flooded on numerous occasions over the last 50 years due to the fact that it is a low-lying area and the sea level has been rising due to global warming.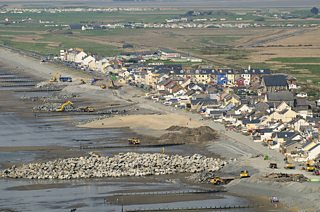 Groups with an interest in Borth include:
Further flooding of private houses and businesses which had already suffered in 2004 and 2005 was considered unacceptable. The estimated cost of the town was valued at over £11 million, so many felt as though continuing to "do nothing" was no longer an option.
It was decided to adopt a combined soft and hard engineering approach to hold the line, and to spend £12 million on:
a large offshore rock reef (hard engineering)

two large rock groynes (hard engineering)

two large breakwater armours (hard engineering)

beach nourishment – adding new shingle to widen the beach (soft engineering)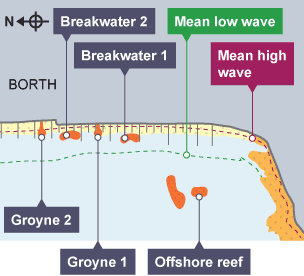 Some argued against the scheme, stating that it was too expensive and looked unattractive. Developers gave careful consideration to environmental factors such as preserving sea views and impacts on habitats, as well as providing seating and an attractive promenade for tourists and locals.
On 15 May 2012, the new sea defences were officially opened after a year-long construction process.
Was it successful?
During the winter of December 2014/January 2015, major storms battered the west Wales coastline for nearly five weeks. This storm was the first real test of the new defences at Borth, and they proved their worth. While some of the defences needed reshaping, this cost and inconvenience can be seen as a minor impact, compared to rebuilding homes had the defences not been there at all.