A student investigates the relationship between the magnetic flux density and the electromagnetic force on a current-carrying wire.
The student has the equipment shown in the figure below: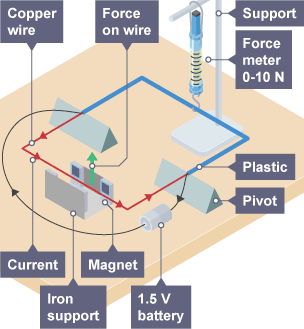 The student varies the number of magnets and measures the force on the wire using the force meter.
The results are shown in the table.
| Number of pairs of magnets | Reading on force meter (N) |
| --- | --- |
| 1 | 0.0 |
| 2 | 0.0 |
| 3 | 0.1 |
The student decides that his equipment is not sufficiently sensitive.
Give three ways the student should develop his investigation to improve the quality of his results. [3 marks]
Any three from the following:
use a higher current as the force depends on the current

use stronger magnets

use a force meter with a smaller range, eg 0.00 to 0.01

use a longer distance from pivot to increase the moment of the force on the wire
[3]
Make sure you give three clear and separate answers. Remember that the force in the motor effect is increased by increasing the current and the field strength. You could also remember forces are increased by a greater distance from a pivot from your work on moments.