Sampling
It is often impractical to count all the organisms in a population:
animals may move into or out of an area during counting

some may die during the time it takes to complete the counting

it may be difficult to find all the organisms during counting
As a result, biologists have developed different ways to estimate the size of a population. This involves taking random samples of the area to be studied. The more samples that are taken the more valid the results will be and it is important to use techniques which randomise each sample to avoid bias.
After sampling, scientists will use statistical tests to check whether they have collected enough data and also whether their results are significant.
Using a quadrat
A quadrat is usually a 0.25 m2 frame. It may contain wires to mark off smaller areas inside, such as 5 × 5 cm squares or 10 × 10 cm squares. The organisms underneath, usually plants, can be identified and counted. Quadrats may also be used for slow-moving animals, such as slugs and snails.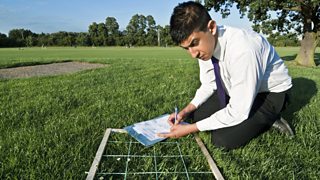 To take a truly random sample you should:
measure out an area to be surveyed

use

random

numbers as coordinates for the vertical and horizontal axes measured out

select the first coordinate and move that distance along the x axis

select the second coordinate and move that distance along the y axis

place your quadrat directly at your feet without looking at the ground below

count the number of organisms in the quadrat

repeat this procedure for as many quadrats as possible within the area
Transects
On occasions scientists don't want to sample an area randomly. They want to look at a pattern in an ecosystem. Think about a visit to the beach. The seaweeds change as you walk down the shore to the sea, so a random sampling of this would miss this pattern. So instead, scientists draw an imaginary line down the ecosystem called a transect. It can be as simple as a string or rope placed in a line on the ground. Scientists place their quadrats at regular intervals along the transect and often record other data like temperature, pH or water content. In this way, they can link these factors to the distribution of organisms. A kite diagram (as shown on the next page) is used to show the number of organisms along the transect.