The film industry
Film is a massive global industry which generates billions of pounds every year.
There are many studios and production companies involved in this industry but all film production can be divided into two basic types: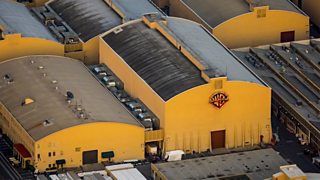 Warner Brothers is an example of the big budget, Hollywood studio model.
Studio:

these are mainstream films with big budgets made by major Hollywood studios such as Warner Brothers, Disney or Universal. Studio films have high

production values

and usually feature well-known star actors in the lead roles. Examples of studio films include

Interstellar

(2014),

Jurassic World

(2015) and

Star Wars: The Force Awakens

(2015).

Independent:

these films are usually made with much smaller budgets. They sometimes have lower production values than studio films. Independent films are also less likely to have well known stars in them. Examples of this type of film include

Moonrise Kingdom

(2012),

Brooklyn

(2015) and

Sing Street

(2016).