The ionic lattice
An ionic compound is a giant structure of ions. The ions have a regular, repeating arrangement called an ionic lattice. The lattice is formed because the ions attract each other and form a regular pattern with oppositely charged ions next to each other.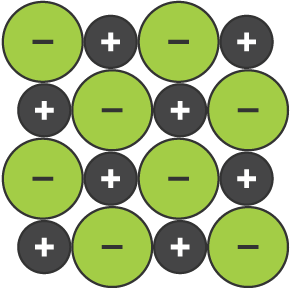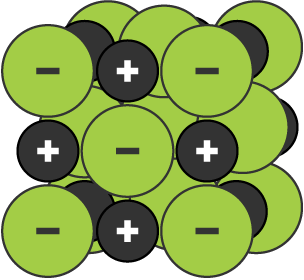 Remember that the lattice arrangement is giant - for example, a single grain of salt may contain 1.2 × 1018 (1,200,000,000,000,000,000) ions. The lattice arrangement continues in three dimensions. This is why solid ionic compounds form crystals with regular shapes.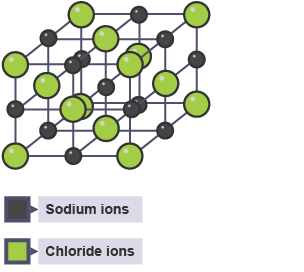 Ionic bonding
An ionic lattice is held together by strong electrostatic forces of attraction between the oppositely charged ions. The forces act in all directions in the lattice. This is called ionic bonding.
Representing ionic compounds
Different types of model are used to represent giant ionic structures. Each has its advantages and limitations. For example:
the two-dimensional space-filling model clearly shows the arrangement of ions in one layer, but it does not show how the next layer of ions is arranged

the three-dimensional ball and stick model shows the arrangement of ions in a larger section of the crystal, but using sticks for bonds is misleading because the forces of attraction between ions actually act in all directions

the three-dimensional model is also misleading because it shows lots of free space between the ions, which there isn't