The efficiency of an electric motor is investigated as shown in Figure 1.
The motor lifts a mass at a constant speed.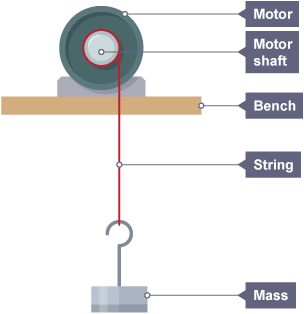 The results are shown in the table below:
| | |
| --- | --- |
| Current in motor | 1.9 A |
| Voltage across motor | 10.0 V |
| Time taken to lift mass | 9.0 s |
Electrical power = current × potential difference (
).
a) Show that the total energy supplied to the motor in the 9 s is about 170 J. [2 marks]
During the 9 s the efficiency of the motor is 70%.
b) Calculate the amount of useful energy transferred in the 9 s. [3 marks]
a)
[1]
Then calculate
[1]
= 171 J
Recall the equation linking current, voltage and power to find the power. Then recall the equation linking energy, power and time to find the energy. Remember that in a 'show that' question you can't use the number you are asked to show in your calculation anywhere. You should finish with a statement that you have shown what was asked (eg '171 J is approximately 170 J').
b) Calculate:
so
[1]
= 0.7 x 171 [1]
= 120 J [1]
Recall the equation for efficiency and rearrange it to make 'useful energy transferred' the subject.