Detailed plot summary
Scrooge makes his clerk work in the cold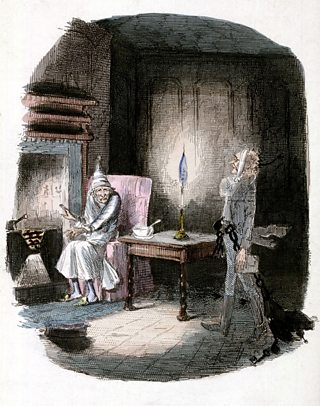 The novella begins on Christmas Eve with Scrooge, a mean and miserly man working in his counting-house. His clerk, Bob Cratchit, is working hard and trying to warm himself over a candle as Scrooge refuses to give him more coal.
He refuses Fred's invitation
Scrooge's cheerful nephew, Fred, arrives to wish him a Merry Christmas and to invite his uncle to a Christmas dinner. Scrooge responds with a grumpy 'Bah!' followed by 'Humbug!'
Scrooge dismisses the charity collectors
Two gentlemen enter the office as Scrooge's nephew leaves. They are collecting for the poor and homeless. Scrooge refuses to give them a donation, claiming that the prisons and workhouses should provide for such people. He declares that if they cannot go to prison or the workhouses the poor should die 'and decrease the surplus population'.
Scrooge is visited by Marley
Back at home, Scrooge has strange visions of the door knocker and tiles bearing the face of his old business partner, Jacob Marley. He refuses to believe his eyes, but then Marley's ghost appears and frightens Scrooge by rattling his chains. He tells Scrooge he will be haunted by three spirits.