The Welfare State
Since the welfare state was set up after World War 2, UK Governments have used it to help those who are too young, too ill or too old to look after themselves. It also helps those who are out of work. It has been difficult for recent governments to pay for the modern welfare state.
There are three main reasons for this:
Life expectancy for men and women has risen dramatically with implications for the cost of pensions, health care and social care.

There has been a large growth in the number of lone parents leading to a knock on effect on benefit costs such as housing and council tax benefits.

Millions of people are unemployed and the costs are considerable for government.
Unemployment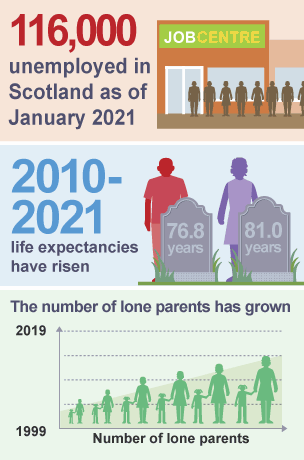 Whilst helping people to find work, the welfare state continues to support the unemployed with a range of benefits.
The Department for Work and Pensions (DWP) has responsibility for benefits and for getting people back to work. The welfare budget accounts for one third of all government spending.
Universal Credit
Under Universal Credit there is a benefit cap to ensure that those out of work do not receive more than those in work. In all of the UK except London, this cap is set as follows:
£384.62 per week (£20,000 a year) if you're in a couple

£384.62 per week (£20,000 a year) if you're a single parent and your children live with you

£257.69 per week (£13,400 a year) if you're a single adult
In return for receiving Universal Credit, people who are unemployed must look for work or take steps towards it. This may include;
preparing a CV

attending training courses

applying for suggested vacancies

registering with a recruitment agency
In most cases they must also be available and willing to immediately take up work and attend interviews to discuss plans and opportunities for returning to the workplace.
Child Benefit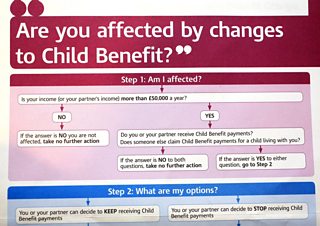 Child benefit is a tax-free payment that is aimed at helping parents cope with the cost of bringing up children.
However, changes introduced in 2013 mean that not all parents are entitled to child benefit. Families where one parent is earning more than £50,000 a year cannot claim the full amount.
Those who are eligible for the full payment can claim £21.45 a week for an eldest or only child and £14 a week for each other child. The payments apply to all children aged under 16 or who stay on at school. Child Benefit will continue to be available in addition to Universal Credit but will be means tested.
The Early Years Framework
In an attempt to stop poverty and unemployment affecting the next generation, the Scottish Government has decided to make improving the early years of a child's life a priority.
The Early Years Framework is an attempt to identify children who are most vulnerable to a poor upbringing and intervene to improve their life as early as possible.
Scottish Child Payment
Since February 2021, Scottish Child Payment has been paid to low income families in Scotland with children under 6.The payments are part of the Scottish Government strategy to tackle child poverty.
Payments were introduced at a rate of £10 per week per child. These are to rise to £20 per week in April 2022. By the end of 2022, the scheme will be extended to children up to the age of 16.
The baby box
Every baby born in Scotland is entitled to a baby box which is full of essentials. The box also become a safe sleep space for babies. The box includes items such as: clothes, thermometer for the baby and the bath, books, and a comforter. Over 90% of parents who received one said it was working well.