Consequences of poverty
Living in poverty has major consequences for a person's life chances.

Those who are born into poverty often find it very difficult to escape from it.

There are clear links between poverty and poor health, crime and low educational levels.
Poor health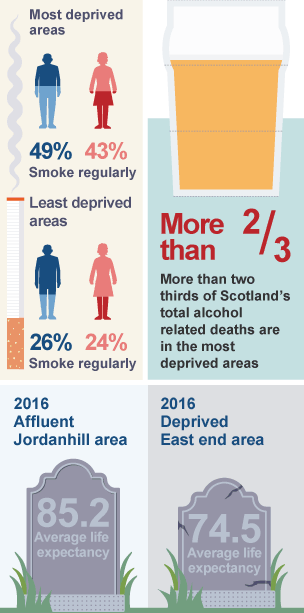 In 2016 in Glasgow, the average life expectancy of a rich female is 85.2, while women living in the city's poorest areas are only expected to reach 74.5.
More than two thirds of alcohol-related deaths in Scotland are in the country's most deprived areas. Also in these parts, 49% of men smoke regularly compared to 26% of men in the least deprived areas. The divide is similar for women, 43% smoke in the most deprived areas, compared to 24% in better off parts. Deaths from heart disease are nearly five times higher in poorer areas and cancer deaths are almost twice as high. It is estimated that more than 6,000 children in Glasgow are living with a parent with a substance abuse problem.
The Scottish Government's Equally Well document notes that a higher proportion of babies born to mothers from more deprived areas have a lower birth weight, compared to those born in more well off parts.
Crime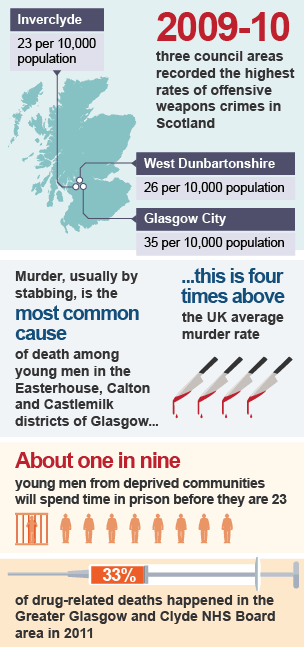 People from all walks of life can break the law but those who grow up in poor circumstances are far more likely to be involved in crime.
The murder rate in three areas of Glasgow is more than four times the UK average. In 2009-10, three council areas recorded the highest rates of offensive weapons crimes in Scotland:
Glasgow City – 35 per 10,000 population

West Dunbartonshire – 26 per 10,000 population

Inverclyde – 23 per 10,000 population
Each of these three local authorities has housing areas where significant numbers of people live in poverty.