The main objective of the Potsdam Conference was to finalise a post-war settlement and put into action all the things agreed at Yalta.
While the meeting at Yalta had been reasonably friendly, the Potsdam Conference was fraught with disagreements, which were the result of some significant changes that had taken place since the Yalta Conference.
A new US President
The US President, Franklin D Roosevelt, had died and been replaced by his Vice-President, Harry S Truman. Roosevelt had believed that co-operation with Stalin was essential, not only because he needed the USSR to join the war against Japan, but also because he wanted the Soviet Union to be part of the new United Nations organisation. However, Truman was not so keen to work with Stalin. Truman made little secret of his dislike for communism and for Stalin personally. He quickly ended the economic support that the Americans had been giving the Soviets through the Lend-Lease programme during the war. Although Truman began the conference with a positive view of Stalin – he is believed to have stated I can deal with Stalin - he became more impatient with the Soviets after the news of the atomic bomb emerged.
Nuclear Threat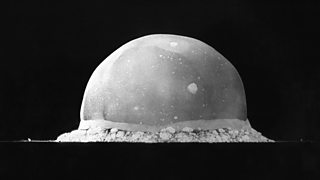 Just before the Conference began, on 16 July 1945, the USA had successfully exploded an atomic bomb at their test site in the New Mexico desert. When first told about the success of the experiment, Truman is said to have remarked: if it works ... I'll sure have a hammer on those boys. At Potsdam, Truman chose to inform Stalin that the US possessed 'a new weapon of unusual destructive force'.
Expansion of Communism
Despite agreeing at Yalta that free elections would be held in Eastern Europe after the defeat of Nazi Germany, there was little evidence at Potsdam that Stalin intended to allow them. In fact the Red Army was in control of Poland where the USSR was in the process of setting up a communist government.